Environmental Education of New Mexico values many different approaches to outdoor and environmental learning. Our community-generated definition includes, but is not limited to conservation, experiential, environmental, nature-based, outdoor, and place-based education and learning. We value education and learning that is student-centered, culturally relevant and responsive, relevant and meaningful, multidisciplinary, and that supports physical, emotional, social, and spiritual health and wellbeing.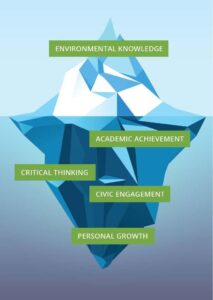 ---
Explore the many benefits and values of outdoor and environmental learning including improved academic performance, increased motivation and interest in school, improved health and wellness, enhanced social and emotional skills, and increased civic and community interest and engagement through eeWORKS hosted by the North American Association for Environmental Education.
---
Webinar Series: Introduction to Outdoor Learning at Home, in Communities, and at Schools – Fall 2020
We invite parents/guardians, teachers, school staff, and community members to join us in a three-part webinar series on outdoor learning opportunities in the Land of Enchantment. Join outdoor and environmental educators in exploring outdoor learning at home, in community, and at school and gain access to resources and support across the state of New Mexico. Join us and get outside!
Social and Emotional Learning in the Outdoors
October 6, 2020
Join us for an introduction to integrating social and emotional learning (SEL) practices into your outdoor learning. This webinar will feature Estrella Risinger of the Association for Environmental & Outdoor Education (AEOE). Estrella has spent the last 4+ years studying, researching, and integrating SEL practices as the project manager of a multi-year grant from the S. D. Bechtel, Jr. Foundation as part of its Character Initiative. As the lead of the Residential Environmental Education Partnership on SEL, one of the grant's projects, she helped launch the website Grow-outside.org, a Social and Emotional Learning Toolkit for Residential Environmental Learning Centers.
Estrella is the Executive Director of AEOE, where she works to advance the impact of environmental and outdoor education in California. She recently served as the National Education Manager at NatureBridge, the largest education partner of the National Park Service. A former classroom teacher and camp counselor, Estrella has a background in both formal and informal educational settings. She lives in Oakland, CA, where she is the mother of two active children who love being outside almost as much as she does.
Standards-aligned Outdoor Learning
October 21, 2020
Outdoor learning is not just taking indoor lessons and moving them outside, nor is it just for field trips. Our panel of local outdoor and informal education experts will talk about how they have put outdoor learning at the center of STEM Ready, ELA and Math standards that all teachers are required to teach.
Our featured panelists:
Vanessa Barela – EENM Leadership Team, Sandia Mountain Natural History Center
Marcia Barton – EENM Leadership Team, NM Public Education Department (retired)
Selena Connealy – NM EPSCoR
Allison Martin – EENM Fellow, Valencia Soil and Water Conservation District
Tish Morris – Bosque Education Guide, NM Museum of Natural History and Science (retired)
Cultural Responsiveness in Outdoor Learning
October 28, 2020
Every student comes to school with their unique story, abilities and comfort. New scenarios encountered in outdoor learning can bring up very different challenges for students. Our presenters will share their experience with bringing students of diverse backgrounds into outdoor learning environments in ways that support and empower students.
Our featured panelists:
Vanessa Barela – EENM Leadership Team, Sandia Mountain Natural History Center
Tallie Segel – EENM Leadership Team, PhD Student at Concordia University
---
In our continued journey for equity and inclusion, EENM strives to provide spaces that support authentic inclusion and are accessible to participants. If there are any considerations we can make to support you (ex: ASL interpretation, scent-free spaces, service animals, mobility assistance, etc.), please let us know when you register. For virtual events, we now include live closed captioning on Zoom.
---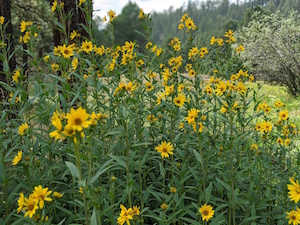 Other Great Webinar Series
North American Association for Environmental Education – https://naaee.org/eepro/learning/monthly-webinar-series
Association for Experiential Education – https://www.aee.org/WEBINARS
National COVID-19 Outdoor Learning Initiative – https://www.greenschoolyards.org/covid-learn-outside